Description
Have a perfectly baked food with this amazing non-stick oven mat.
It is said that BAKING is healthier and brings out the foods natural flavour. But baking is a tough kitchen job, which is why we introduce you the NON-STICK SILICONE OVEN MAT your PERFECT BUDDY to baking!

Non-Stick Silicone Oven Mat is a BAKING MAT SHEET that is made of 100% FOOD GRADE PURE SILICONE making it BPA FREE and NON-TOXIC. It is SAFE to have DIRECT CONTACT with FOOD. It can withstand a TEMPERATURE -40C to 230C. It has a PYRAMID DESIGN that KEEPS the food ELEVATED to ALLOW the HOT AIR to PASS underneath allowing the bottom to COOK and NOT BURN. It helps REMOVE the GREASE and REDUCE FATS from food.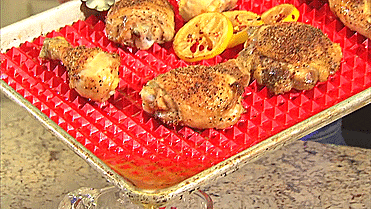 Non-Stick Silicone Oven Mat is NON-SMELLING, ANTI-DUST, and WATER-RESISTANT. It can be SAFELY USE in Ovens, Microwaves, Refrigerators, Freezers, and Dishwashers. It is ULTRA-FLEXIBLE as it can be CUT to SHAPE and FOLDED or ROLLED UP for storage saving. The back of the mat can also be used as MOLDER.
Non-Stick Silicone Oven Mat is EASY to CLEAN just use a TOOTHBRUSH to get in the VALLEYS, place the mat on hot water with cleanser for disinfection and wash it with sponge or brush. It is also DISHWASHER safe.??
Product Specification :
Material : 100% food grade pure silicone (no plastic fillers). BPA free, non-toxic . Temperature tolerance:-40 to 230(-40H to 446H)

Measurement : 16″ x 11.5″. Fits easily inside oven sheets or can be cut to a specific size.